Posted on May 17 2019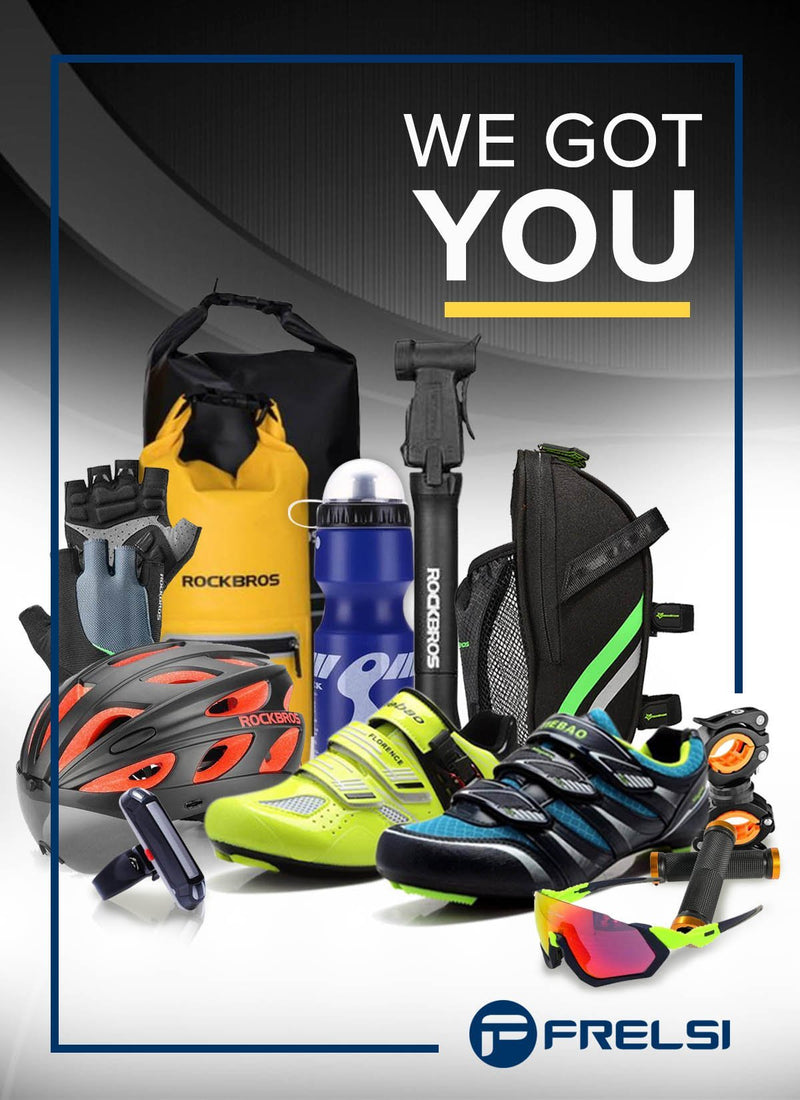 We're always happy to see a new cyclist on the road. We love to hear their stories about why they decided to become one and how they started. I know that it could be overwhelming at first especially if you don't know anyone, yet. But you'll always have this kind of feeling when you're starting on something.
Riding should be fun and exciting. However, keep in mind that you should know the basic rules of the road before you go out there. So aside from knowing the rules of the road, you should also be prepared not just physically and mentally but with the right accessories and gears. You'll never know when you're going to need one.
That's why we come up with some of the basic things that a cyclist would need. Consider this as a checklist. You don't need to have all of these things all at once. However, as I said, you'll never know.
- Helmet
- Jersey
- Gloves
- Shoes
- Light
- Spare tube
That's a long list. However, these are just basic stuff, and you'll discover more as you go along. As I said, you don't need to have all this stuff at once.
Here are the reasons why you need to have one.
Helmet
Bike Helmets today are better than ever: Aerodynamic, lightweight and much more comfortable. It will maximize airflow and reduce drag. Helmets have adjustable sizing features, comfortable chin straps and internal padding that will keep you safe and stylish. Helmets are regulated, but there's still much debate going on about wearing one. Just follow your discretion about helmets. But if you'll going to ask us, wearing a helmet is not an option.     
Sunglasses
Cycling Sunglasses varies nowadays, and it will depend on which one you need. There are photochromic glasses that automatically darken in bright sunlight. There are also prescription glasses and polarized sunglasses. However, whatever type of sunglasses you want to wear, our goal is it should protect your eyes from UV rays.
We also recommend wearing sunglasses with wide lenses to cover your entire field of vision to prevent small particles and dust from getting into your eyes. It is also important that the sunglasses will stay and will not move while you're wearing them. Get to know more about cycling glasses here.
Jersey
Many cyclists consider jersey as not one of the top priorities. Still, many experts recommend wearing jerseys made from durable material that gives a secure fit and stretch. We've written an article about why you need to wear one. Just click this link to understand why you need a jersey.
Padded short
Bib shorts are padded to provide comfort that allows you to sit in the saddle for hours without feeling any discomfort. Bib shorts also helps prevent the waistband from digging into your waistline, and the most important of all, it has no excess fabric that flaps, unlike regular biking shorts. Read more about bib shorts here.
Gloves
Gloves are one accessory that's worth mentioning. Gloves will protect your arms because, let's admit it, we instinctively use our hands whenever we're falling from our bike or when outbalanced. Gloves made from breathable material and waterproof are beneficial in providing comfort while you ride. Click here to check our Cycling gloves collection