Posted on April 22 2019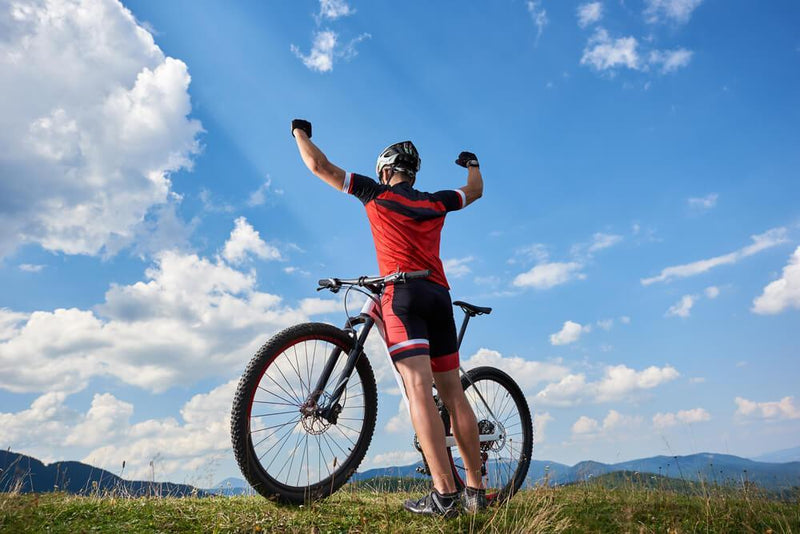 Wearing a jersey is essential when riding a bike, but for those who are not into wearing jerseys or cycling kits, a shirt is still an acceptable option when you ride. However, cotton shirts do not deal well with sweat, and it may slow you down. Imagine yourself riding for hours and soaked in your sweat. Your cotton shirt is getting heavy as you go. That's one of the reasons why you get rashes when you ride your bike for hours. I know that it's not a pleasant experience.
However, what's so extraordinary about wearing a jersey instead of shirts? The answer is in its material, the fit and the features.
Cycling shirts have a few moving surfaces that pull sweat off your body and move it to the outside of the garments where it evaporates quickly. By keeping you dry, you will be more relaxed when the temperature rises. Because of fall and spring riding, it is advisable to wear long sleeve shirts made from breathable fabric that will keep you dry no matter how long you ride, or how hot the weather is.
Cycling jerseys are cut based on the contours of your body while riding to make sure that it will stay fit as you move around and ride with your bicycle. Long sleeve jersey intentionally has long sleeves so it can still maintain coverage even if you reach out to your handlebar.
> Shop Men's Cycling Jerseys < 
Cycling jerseys also have three rear pockets placed in the back so you could easily reach for energy food, phone or accessories without stopping. Others have small zipped pockets on the side where you can keep your valuable stuff such as keys, wallets and first aid kits. Latest designs also now have ports that allow every cyclist to enjoy listening to music while riding without worrying about dangling headsets along the way. Some manufacturers also added safety features on their jerseys by incorporating reflective strips around the edges so you will be visible when you're riding at night.
> Shop Women's CyclingJerseys < 
Manufacturers are also now working on jerseys that are designed to keep you protected from the UV rays of the sun. Because in the past, they are focused on keeping you dry and cool while riding. The rise in the incidents of sunburns skin on riders because of exposure for long hours under the sun is now raising awareness among manufacturers and bikers alike.  Protecting you from the sun is an excellent benefit in a cycling jersey and a good reason why you should get a cycling jersey now.
 > Men's long sleeve Cycling jerseys <
If you're still thinking about what type of jersey you will buy, then it would be best if you consider how you're going to use it. Are you going to compete or you're the type that enjoys the company of your friends riding on a weekend?
If you are aiming to compete, you need a tight-fitting jersey that does not flap in the wind. The fit of your cycling jersey on your body will help you become as aerodynamic as possible.
Here's a tip:
When you fit a new jersey,  stand upright, you will see that your new cycling jersey will feel short in front and long in the back which is the standard cut of every jersey. Try to lean over a bit as if you're in a cycling position (you can touch your knees and bend over). If you still feel that the jersey is short or long, then look for a new size or fit. You can also do this to check if the sleeve is the right size by bending your arms forward as if you're holding your handlebars. 
A more casual rider may be cautious about wearing a cycling shirt since they thought that jerseys nowadays are still made of Spandex. A lot has changed since that era. There are now variations in the styles and materials that they use.
For a casual rider, there are loose jerseys that still offers the same features without that firm look. There are also many jersey designs that you can use during impromptu events after a ride with your friends. 
The costs of the jersey varies depending on the materials used and the complexity of the design. Manufacturers nowadays use combinations of synthetic and natural ingredients, but as I stated, choose the jersey that fits what you need. 
Here at Cycling Frelsi, we always make sure to provide you with jerseys that you need, right where you need it. Our latest collections consists of the features that comply with the latest standards.
We hope you find this article helpful, and that you will find great cycling jerseys from our collection to make your biking experience comfortable, fun and rewarding.