Posted on April 11 2019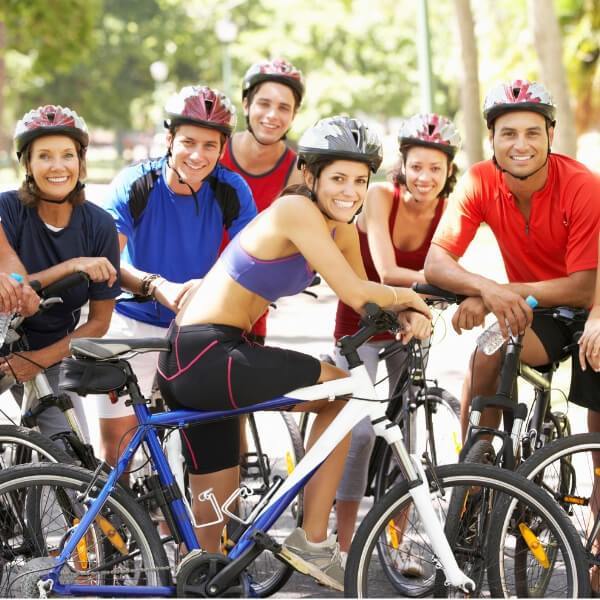 The biking season has started again.
You now got your new bike. You got all the gears and accessories. You're now excited to wear your new apparels. However, you're confused and not sure what to do next.
You've invited some of your friends, but cycling doesn't interest them. If you're starting to get into cycling, you don't have to do it alone.
Going out there alone exposes you to risks. I know because I've been there myself.
I was on a downhill stretch and then all of a sudden my tire broke. I injured my leg in the process. I can't make a call because there's no network available. Lucky for me because after a couple of hours another biker passed by and saw me sitting in the corner.
That was one of my worst experience since then I never go out there alone. In an event like this, you'll realize that it is crucial that you join a local bicycle club.
If you're a beginner, this group can help you improve your bike skills, and you can also make friends in the process.
Here are the reasons why you should join a group.
Brotherhood
Most of the people who ride a bike, including me, are not concern about the terrain or the weekend destination. They were out there because of the people they enjoyed biking with and to have fun.
Because of the weekly or monthly group rides each of the members develop a sense of responsibility to each member. Moreover, this kind of relationship tightens the bonds that makes discovering new routes so much fun. This brotherhood will also help you improve your biking skills because everyone will not hesitate to give you their best practices. It's the perfect way to connect and learn bike repair tips, exercise and work out ideas, diets and a lot of other secrets to improve your cycling.
You'll also find out that the bike season never really ends because even during winter, these groups organised barbecues to keep their members engaged. If you can stand the weather, they also have arranged terrain that makes it even more exciting.
Access to great deals  
Let's admit it. How many times were you able to find the item that you need at a much lower price inside the group? I am guilty of this too.
Access to discount and sales are one of the benefits of joining a group. More often than not each member of a group has a membership discount from a particular bike shop that also offers top of the line products. So this is an excellent value for money. Not only you were able to develop your cycling and social skills, but you will also have the opportunity to purchase at a discount.
 > GET UP TO 65% OFF CYCLING JERSEYS & ACCESSORIES <
Charitable activities
Helping each other during hard times is one of the activities that I like, and I'm proud of when it comes to cycling groups. They could easily create a campaign or come together to help a member for fundraising or community activities.
I saw how a riding for fun became a ride for a cause because of their eagerness to help not just member but also their community. These groups have set an example for each and everyone that's why you'll see why the numbers are growing each year.
These are just three of the benefits of joining a group. The things that I stated are not the only thing that you'll discover if you become a member of a local group. You'll be able to connect with a lot of great individuals that will make your weekend ride enjoyable and meaningful. I'm sure you'll never go out there alone.
If you are already in A cycling group and looking to have Custom Made Jerseys, send us an Email at sales@cyclingfrelsistore.com and let us help you create your group designed cycling jersey