Posted on May 20 2023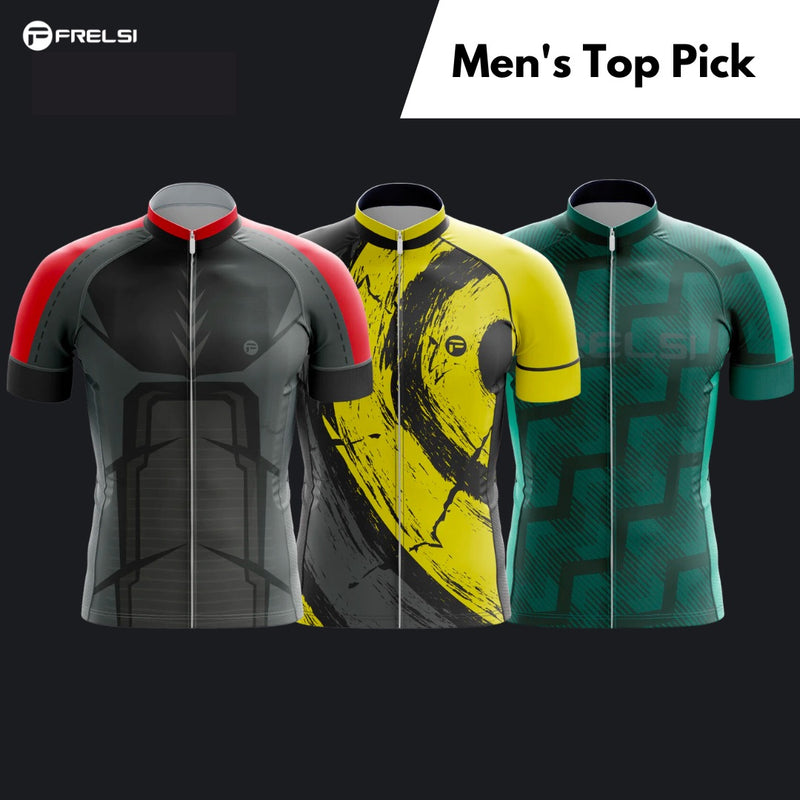 Are you in search of the perfect cycling jersey? Do you want to find quality cycling jerseys online that combine comfort, style, and functionality? Well, you're in the right place!


Quality Cycling Jerseys Online: What to Look For
When selecting a cycling jersey, a few key factors should be considered. These include the material of the jersey, temperature and UPF rating, layering options, and of course, your budget​.


Best Cycling Jerseys for Men: Top Picks
Men's Cycling Jerseys Review: Customer Feedback
At Cycling Frelsi, we believe that the best testament to our products' quality and performance comes from the people who use them every day—our valued customers. With over 5100 reviews from tens of thousands of happy cyclists worldwide, we're proud to have created a community that trusts and loves our cycling gear.


Affordable Cycling Jerseys for Men: Find the Best Deals
Get more for less with our discounted packs of two, three, and more.
Mix and match your favorite cycling jerseys and get them at unbeatable prices.

Shop now and save big while looking and feeling your best on every ride!
SAVE BIG ON BEST SELLING PACKS ->



Comfortable Cycling Jerseys for Men: Prioritize Your Comfort
Comfort is key when it comes to cycling, and the right jersey can significantly enhance your riding experience. Our selection of men's cycling jerseys is designed with this in mind, focusing on aspects such as fit, breathability, and moisture-wicking properties​. Moreover, our jerseys come in a variety of sizes and fits to accommodate different body types, ensuring a snug yet comfortable fit that doesn't restrict your movement. With our comfortable cycling jerseys for men, you can focus on the ride, confident that your gear is working to keep you as comfortable as possible.



Weather-appropriate Cycling Jerseys: Be Prepared for All Conditions
No matter the weather, we've got you covered. Our selection of cycling jerseys for men caters to all conditions, ensuring you're comfortable and protected on your ride. For chilly days, our fleece version provides an extra layer of warmth, keeping you cozy as you pedal against the cold. When the weather is milder, our long sleeve jerseys provide an ideal balance between warmth and breathability. And for those hot, sunny days, our short sleeve jerseys are designed to keep you cool and dry, with materials that wick away sweat and promote ventilation. Each jersey is crafted with temperature ratings in mind, allowing you to select the perfect jersey for your ride's conditions​​.
With our weather-appropriate cycling jerseys, you can be prepared for any climate and focus on the joy of the ride.