Posted on February 22 2023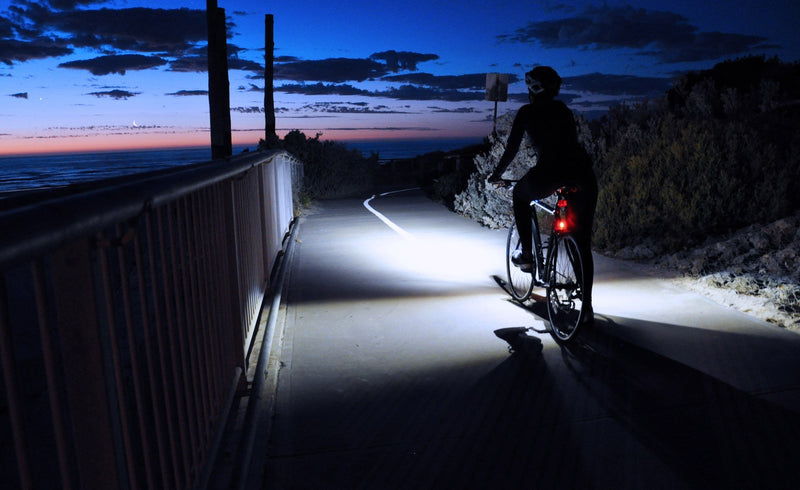 When choosing what bike lights to buy it's almost certain that you go through the usual thought process of looking at the technical aspects of what it is you want to purchase. You look at the size, weight, price, the obvious ones.
While that's all well and good, there are other considerations that need to be looked at because, dare we say, these may be more important than the three mentioned above.
One of those things is its utility. What is it for?
Are you a roadie? Do you regularly ride no matter the season? How long do you ride? What time?
If you ride in the city where there are light posts in the streets, whether it's in the winter or at night, then a small, light weight, inexpensive pulsing cycling light is perfect for you. You will easily grab the attention of other vehicles and pedestrians on the road without needing too much power. Plus, you can easily replace it if you lose it. Speaking of replaceable, choose one with replaceable batteries.
For places that don't have street lighting, though, let's say, you're going down a dark lane, obviously you'll need something more powerful. Maybe one with 800 lumens (400 lumens at the lowest) so it will seem like you're riding in daylight. You'll be seeing in significant detail your surroundings, keeping your ride safe. If you want to go a bit fancy, there's a model that has different power levels to suit your riding conditions.
 1000 Lumens Bike Light > SHOP HERE <
Of course, with higher lumens come higher price. But I'm sure you'll agree that this investment in your safety is more than worth it, especially if you're serious about commuting at night or at times or places with low or no light. When considering whether to get replaceable or rechargeable batteries for this type, choose the latter so you don't keep replacing the batteries as these will definitely use up more power.
Bike Rear Light > SHOP HERE <
Lastly, consider something that also has settings for daytime. You might think it is silly to have lights during the day but this is for when the day gets gloomy or when you are out riding late afternoon and won't be at your destination till evening. You don't want to get caught riding in the dark. That's just flirting with danger so best to be prepared than be road kill.
At the end of the day (or your ride, whichever you prefer), when thinking about the kind of bike lights to buy, the most important thing on your mind must be your safety. Choose, whether it's for the rear or the front (or the latest ones, on the side), that which makes you more visible on the road.
If you want to be extra cautious then go ahead and mix them up a bit for maximum visibility.
Before making your decision, do check a handful of bike lights reviews to get the most bang, er… get the best for your buck. The last thing you want is to spend more unnecessarily for your safety but put your wallet in peril.
 Frelsi Bike Light Full collection > CLICK HERE <